Yoga and Paddle Yoga
with Florence Loliée
29 MAY - 2 JUNE 2019
for BETWEEN 8 AND 12 PARTICIPANTS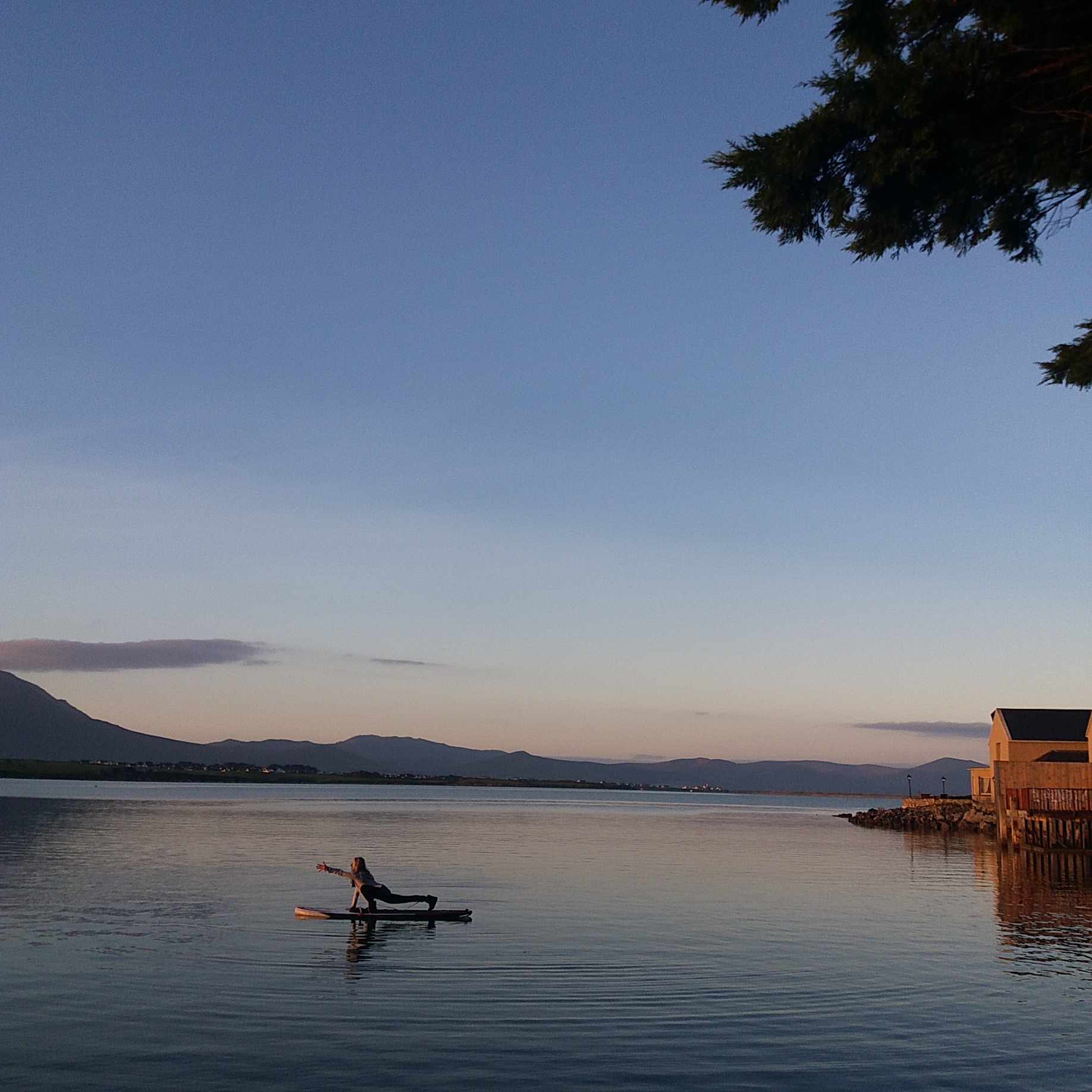 In this workshop, we offer one and a half hours transformational Hatha yoga in the village of Cérvoles (with amazing views!) and one and a half hours of paddle yoga on beautiful San Antoni lake, nearby. Suitable for all levels, young and old, novices and experts!
The morning session consists of a balanced combination of asanas, pranayama, mantras and meditation.
ASANAS: we will be doing sequences of different yoga postures. Different variations will be shown, so everyone can work according to their own strength and flexibility, never forcing ourselves, exploring our own bodies little by little. These exercises bring strength and flexibility, eliminate toxins and improve general health.
PRANAYAMA: we will be learning different breathing techniques to improve energy circulation, concentration, quality of sleep and stress reduction.
MANTRAS: we will be singing mantras together to generate specific vibrations that can help to improve receptivity and observation and above all clarify and liberate the mind.
MEDITATION: we will round off the session with a (guided!) meditation exercise. This helps to calm down the mind and to access creativity, detachment, and inner strength.
In the afternoon, we will go to the nearby lake of Sant Antoni for a fun paddle yoga session. Here, your yoga mat will be the paddle board (we find that it tends to float better…)
Putting your paddleboard on the surface, going on your knees first, feeling the movement of water, observing the board, finding your balance, standing up, tackling instability (and just occasionally saying hello to the little fishies when you slip!), communing with the natural elements, embracing the breeze, slipping along the lake and melding with the surrounding nature.
Practicing yoga on a paddleboard allows you to detach ourselves and let go. And, above all, it's lots of fun!
Needless to say, the asanas are simplified and slower because we need to assume the positions on a floating moving platform. And avoid constantly falling in!
Please bring a wetsuit. If you can't, let us know: you can rent one onsite.
Paddleboards will be provided
Programme
Arrival is in the evening of 29 May, and we will start with dinner. The course will end with lunch on 2 June.
The yoga classes will be from 10:00 to 11:30 a.m.. After lunch, the paddle yoga classes on the lake will run from 2:30 to 4:00 p.m. .Your remaining time will be free to explore the area or to rest. For more information on things to do in the area, please click here.
Accommodation, Food & Rates
ACCOMMODATION:
You will be staying at Casa La Era.
FOOD:
Check here for detailed information.
PRICING:
4 days: 425 euros
WHAT'S INCLUDED
The classes, accommodation and food.
Not included: one meal out. Transport to Cérvoles
For full booking terms and conditions please click here.
Book early! Registrations close one month before the start date.
Your teacher
Florence Loliée
Flo first worked as a dancer and fitness teacher. Later on, she went to India to study transformational Hatha yoga.
"During my trips in the East, I witnessed and took part in an everyday spirituality, a simpler lifestyle and great kindness. I always looked for soulful movements or forms of expression in my dancing. In a part of the world where practising yoga is an everyday activity, it was only a small step from dance to yoga for me.
I also lived for a long time in Mauritius where yoga is practiced on the beach or on the deck of a boat, at sunrise and sunset.
It was there that I began practising yoga on a paddleboard. My yoga has been enriched by the fact of being in touch with water. The instability of the board requires ongoing attention and expanded introspection.