Abstract painting
with Liesbeth Willaert
11 - 15 SEPTEMBER 2019
for BETWEEN 8 AND 10 PARTICIPANTS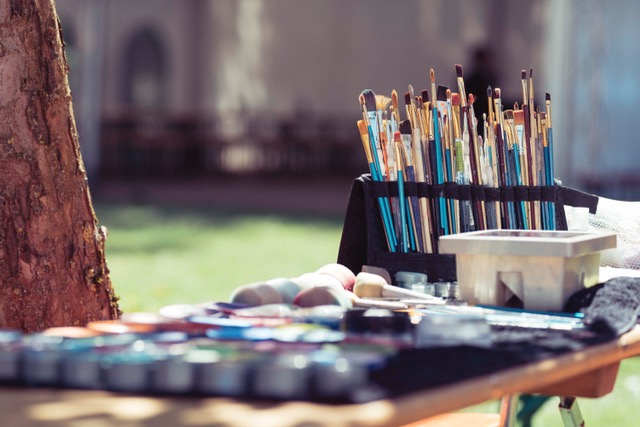 (Para más información en castellano, haz clic aquí para bajar un pdf.)
Do you want to know the secrets of colours, compositions and layering? Do you want to know how to create dynamic and powerful paintings? Do you like shapes and want to give more power to your compositions? Do you want to paint bigger and bolder? More intuitively? More spontaneously? Feel totally free when you paint?
If your answer is "yes" to one (or more) of the questions, then this workshop holiday is for you—even if you've never painted before!
In this workshop, Liesbeth will share her knowledge and techniques, gained from her 13 years of painting experience. It's ideal for beginners or for figurative painters interested in exploring the abstract world. The outcome of the workshop will be to complete a big painting in an abstract expressive style, with either geometric or organic shapes and compositions, with our without mixed media on canvas (i.e. adding sand in the paint, adding other material such as cloth to the canvas to add structure and depth).
The main goal is to find your very own abstract style and experience the freedom and joy of painting.
If you are interested, we can also help you to
1) Make your own brushes
2) Setting up your own canvas; Liesbeth will show you how to set up and stretch a canvas on a wooden frame.
3) Marketing musts for artists.
* What will you need to bring?
- Paint: acrylic paint (dries much faster than oils): at least black + white and the 3 basic colours: yellow/red/blue (we'll mix all the rest ourselves) + one fluorescent colour. Please bring more colours if you have them.
- big brushes (3)
- small brushes (3)
- at least two pallet knives
- tape (like masking tape for painting walls)
- 1 piece of drawing charcoal + eraser
- pastels (a box of at least 5 colours, including white)
- notebook + pen + pencil for composition sketching + eraser
- If you have one, a painting palette to mix colours (if you don't have one, don't buy one, we'll use a plain dinner plate).
If you want to travel light, you can also rent all the required materials for an extra 60 euros on site. In this case, you don't need to bring anything!
Paper & Canvas: we'll work on paper and canvas paper for the preparatory exercises before we move onto the big canvas! We will provide all of this. The big canvas can be of varying sizes, and different options between 70cm x 70cm and 1m x 1m will be available on site. At the end of the course, you'll only pay for the big canvas itself, which will be rolled up for easy air transport. Once at home, your local fine arts shop can stretch out the canvas for you. This means you can book your flights "hand luggage only"!
The main goal is to find your very own abstract style…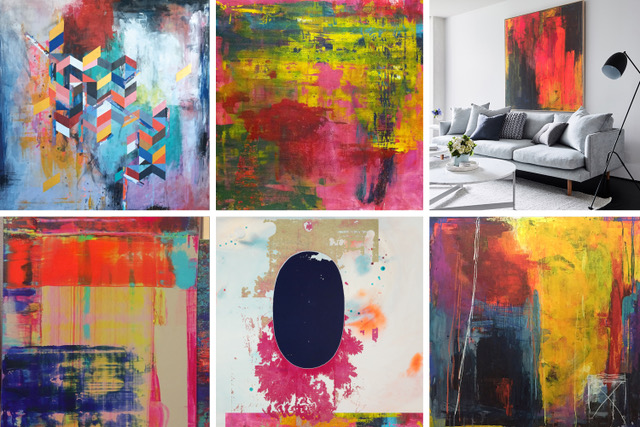 Programme
Arrival is in the evening of 11 September, and we will start with dinner. The course will end with lunch on 15 September.
Classes will be from 9:30 a.m. to 1:30 p.m. After lunch, the teacher will be available for one extra hour for those who want continue painting in the afternoon, or the time can be used to clean up materials (fixating charcoal, cleaning brushes etc.).Your remaining time will be free to explore the area or to rest. For more information on things to do in the area, please click here.
Accommodation, Food & Rates
ACCOMMODATION:
You will be staying at Casa Pep.
FOOD:
Check here for detailed information.
PRICING:
4 days: 515 euros
WHAT'S INCLUDED
The classes, accommodation and food.
Not included: we'll be having one meal out at a restaurant. Transport to Cérvoles (see here)
For full booking terms and conditions please click here.
Book early! Registrations close one month before the start date.
Your teacher
Liesbeth Willaert
One constant in Liesbeth's life (apart from surfing) is drawing and painting. Ever since she could hold a pen Liesbeth drew. Nowadays her style is what the art world calls 'lyrical abstract' (what's in a name?). Her paintings are characterised by a strong and abundant colour palette and composition. Colours have been and will always be essential.
Her technique is mixed media on canvas. Starting with the foundational layers of acrylic paint and pastel, materials such as tissue, paper, dried coffee, sand, fine stone, and metal are gradually added in later stages to provide structure and strengthen the composition. Painting for a week in the studio of artist Jenny Verplancke (in 2005) definitely marked her style. It was during that particular creative "residency" that Liesbeth found her own painting voice.
Now Liesbeth is painting more than ever, as the Mediterranean life is a non-top source of inspiration, especially the light, ever-changing colours of the sea and structure of the water.
Instagram: liesbethwillaert_paintings